Теоретичний аналіз можливостей залучення тварин до соціально-психологічного супроводу людей похилого віку в умовах пансіонату
Ключові слова:
людино-тваринна взаємодія, особи похилого віку, заклади інтернатного типу, пансіонат, соціально-психологічний супровід
Анотація
У статті розглянуто теоретичні засади залучення тварин до соціально-психологічного супроводу людей похилого віку в закладах інтернатного типу. Проаналізовано основні теорії, які пояснюють вплив методу людино-тваринної взаємодії на емоційний стан людей, та можливість залучати тварин до різних форм соціально-психологічної роботи. Опрацьовано останні дослідження щодо залучення тварин до навчальної та терапевтичної роботи з особами похилого віку в закладах інтернатного типу. Зроблено висновок, що серед проаналізованих теорій, які пояснюють вплив людино-тваринної взаємодії на емоційний стан людей, найбільш обґрунтованою є фізіологічна теорія, згідно з якою мозок людини під час такої взаємодії виділяє низку нейромедіаторів, які породжують приємні емоційні переживання.
Посилання
IAHAIO. (2019). IAHAIO White Paper. http://iahaio.org/wp/wp-content/uploads/2019/04/white-paper-ukranian-2019-
updated.pdf
Zhaldak, P. I., & Krupelnytska, I. H. (2018). Adaptatsiia liudei pokhyloho viku do suchasnykh sotsialnykh umov. International Scientific and Practical Conference World Science, 3, 34–38 [in Ukrainian].
Kravchenko, O. O. (2017). Sotsialna reabilitatsiia osib z invalidnistiu: pohliad u mynule ta perspektyvy sohodennia. European Humanities Studies: State and Society, 2, 130–142 [in Ukrainian].
Kryvenko, I. (2018). Formy nadannia psykholohichnoi dopomohy, spriamovanoi na pokrashchennia subiektyvnoho blahopoluchchia meshkantsiv heriatrychnykh zakladiv. In J. Binnebesel & H. Katolyk (Eds.), Paliatywno-hospicyjna opieka: pozamedyczne aspekty wielowymiarowe (рр. 259–284). Lviv: Ukrainian Catholic University [in Ukrainian].
Kuchkivska, O. A. (2018). Orhanizatsiia formuvannia seredovyshcha i funktsionalnoho napovnennia budynkiv dlia litnikh liudei. Suchasni problemy arkhitektury ta mistobuduvannia, 51, 458–464 [in Ukrainian].
Nakaz Ministerstva pratsi ta sotsialnoi polityky Ukrainy No 549 vid 29.12.2001 "Pro zatverdzhennia typovykh polozhen pro budynky-internaty (pansionaty) dlia hromadian pokhyloho viku, invalidiv ta ditei». (2001). https://zakon.rada.gov.ua/laws/show/z0066-02#Text [in Ukrainian].
Osipova, O., Novokhatskyi, D., & Pinaieva, O. (2020). Osoblyvosti sotsialnoi roboty z liudmy pokhyloho viku na prykladi "KU Oblasnyi pansionat invalidiv i liudei pokhyloho viku" (m. Vinnytsia). Pedahohichnyi poshuk, 11, 183–187 [in Ukrainian].
Romanova, I. (2018). Sotsialna robota z pidtrymky intelektualnoi aktyvnosti liudei pokhyloho viku. Teoriia i praktyka upravlinnia sotsialnymy systemamy, 1, 63–71 [in Ukrainian].
Ainsworth, M. D. S. (1963). The development of infant-mother interaction among the Ganda. In B. M. Foss (ed.), Determinants of Infant Behavior II (pp. 67–104). London: Methuen.
Allison, M., & Ramaswamy, M. (2016). Adapting Animal-Assisted Therapy Trials to Prison-Based Animal Programs. Public Health Nursing, 33(5), 472–480.
Andreasen, G., Stella, T., Wilkison, M., Szczech Moser, C., Hoelzel, A., & Hendricks, L. (2017). Animal-assisted therapy and occupational therapy. Journal of Occupational Therapy, Schools, & Early Intervention, 10(1), 1–17.
Beetz, A., Uvnäs-Moberg, K., Julius, H., & Kotrschal, K. (2012). Psychosocial and psychophysiological effects of human-animal interactions: The possible role of oxytocin. Frontiers in Psychology, 3, 234–245.
Beetz, A., & Bales, K. L. (2016). Affiliation in human-animal interaction. In Social neuroscience and human-animal interaction (pp. 107–126). Washington, DC: American Psychological Association.
Beetz, A. M. (2017). Theories and possible processes of action in animal assisted interventions. Applied Developmental Science, 21(2), 139–149.
Bowlby, J. (1969). Attachment and Loss. Vol. 1: Attachment. New York, NY: Basic Books.
Carter, C. S., & Porges, S. W. (2016). Neural mechanisms underlying human-animal interaction: An evolutionary perspective. In Social neuroscience and human-animal interaction (pp. 89–106). Washington, DC: American Psychological Association.
Casey, J., Csiernik, R., Knezevic, D. et al. (2018). The impact of animal-assisted intervention on staff in a seniors residential care facility. International Journal of Mental Health and Addiction, 16, 1238–1248. https://doi.org/10.1007/s11469-017-9849-5
Ciccarelli, S. K., & White, J. N. (2015). Psychology (4th ed.). London: Pearson.
De Milander, M., Bradley, S., & Fourie, R. (2016). Equine-assisted therapy as intervention for motor proficiency in children with autism spectrum disorder: Case studies. South African Journal for Research in Sport, Physical Education and Recreation, 38(3), 37–49.
DeLoache, J. S., Pickard, M. B., & LoBue, V. (2011). How very young children think about animals. In P. McCardle, S. McCune, J. A. Griffin, & V. Maholmes (eds.). How animals affect us: Examining the influence of human-animal interaction on child development and human health (pp. 85–99). Washington, DC: American Psychological Association.
De Santis, M. et al. (2018). Аnimal assisted interventions in practice: Mapping Italian providers. Veterinaria Italiana, 54, 323–332.
Eaton-Stull, Y. et al. (2019). An Exploratory Study of Animal-Assisted Interventions (AAI) in Social Service Agencies. Journal of Social Service Research, 46(3), 1–14. https://doi.org/10.1080/01488376.2019.1658028
Eaton-Stull, Y., & Williams, A. (2017). Animal-assisted interventions: Social work practice for older adults with dementia. Journal of Aging and Long-Term Care, 2, 1–11. https://doi.org/10.5505/jaltc.2019.21939
Ebener, J., & Oh, H. (2017). A review of animal-assisted interventions in long-term care facilities. Activities, Adaptation & Aging, 41, 107–128. https://doi.org/10.1080/01924788.2017.1306380
Fung, S. C. (2017). Canine-assisted reading programs for children with special educational needs: rationale and recommendations for the use of dogs in assisting learning. Educational Review, 69(4), 435–450.
Gabriels, R. L., Pan, Z., Dechant, B., Agnew, J. A., Brim, N., & Mesibov, G. (2015). Randomized controlled trial of therapeutic horseback riding in children and adolescents with autism spectrum disorder. Journal of the American Academy of Child & Adolescent Psychiatry, 54(7), 541–549.
George, C., & Solomon, J. (2008). The caregiving system. A behavioral systems approach to parenting. In Handbook of attachment: Theory, research and clinical applications (pp. 833–856). New York, NY: Guilford.
Gilmer, M. J., Baudino, M. N., Goddard, A. T., Vickers, D. C., & Akard, T. F. (2016). Animal-assisted therapy in pediatric palliative care. Nursing Clinics, 51(3), 381–395.
House, L. A., Neal, C., & Backels, K. A. (2018). Doggone Way to Reduce Stress: An Animal Assisted Intervention with College Students. College Student Journal, 52(2), 199–204.
Julius, H., Beetz,A., Kotrschal, K., Turner, D., & Uvnäs-Moberg, K. (2013). Attachment to pets – An integrative view of human-animal relationships with implications for therapeutic practice. New York, NY: Hogrefe.
Kaufmann, M. E., Beetz, A., Kinoshita, M., & Ross, S. (2015). Enhancing special education environments with animal-assisted interventions at Green Chimneys: Opportunities and practical considerations. In Handbook on Animal-Assisted Therapy (pp. 211–224). Elsevier Academic Press. https://doi.org/10.1016/C2013-0-18836-8
Kim, O., Hong, S., Lee, H. A., Chung, Y. H., & Lee, S. J. (2015). Animal Assisted Intervention for Rehabilitation Therapy and Psychotherapy. In Complementary Therapies for the Body, Mind and Soul (pp. 147–161). https://doi.org/10.5772/61117
Marino, L. (2012). Construct validity of animal-assisted therapy and activities: How important is the animal in AAT? Anthrozoös,
(1), 139–151.
Marsh, A., Pietruch, A., Steixner, B., Forkey, K., & McFarland, S. (2017). The Supports and Barriers to the Use of Animal-Assisted Therapy in Occupational Therapy Intervention with Adults. Doctoral dissertation. Utica College.
Meints, K., Racca, A., & Hickey, N. (2010). How to prevent dog bite injuries? Children misinterpret dogs' facial expression. Injury Prevention, 16, 68–78.
Melekoglu, M. L., & Wilkerson, K. L. (2013). Motivation to read: How does it change for struggling readers with and without disabilities? International Journal of Instruction, 6(1), 77–88.
Mims, D., & Waddell, R. (2016). Animal assisted therapy and trauma survivors. Journal of Evidence-informed Social Work, 13(5), 452–457.
Ohtani, N., Narita, S., Yoshihara, E., Ohta, M., & Iwahashi, K. (2015). Psychological Evaluation of Animal-assisted Intervention (AAI) Programs Involving Visiting Dogs and Cats for Alcohol Dependents: A Pilot Study. Japanese Journal of Alcohol Studies & Drug Dependence, 50(6), 289–295.
Pope, W. S., Hunt, C., & Ellison, K. (2016). Animal assisted therapy for elderly residents of a skilled nursing facility. Journal of Nursing Education and Practice, 6(9), 56–62.
Schuck, S. E., Johnson, H. L., Abdullah, M. M., Stehli, A., Fine, A. H., & Lakes, K. D. (2018). The Role of Animal Assisted Intervention on Improving Self-Esteem in Children With Attention Deficit/Hyperactivity Disorder. Frontiers in Pediatrics, 6, 1–9. https://doi.org/10.3389/fped.2018.00300
Smith, B. P., & Dale, A. A. (2016). Integrating animals in the classroom: The attitudes and experiences of Australian school teachers toward animal-assisted interventions for children with Autism Spectrum Disorder. Pet Behaviour Science, 1, 13–22.
Urquiza-Haas, E., & Kotrschal, K. (2015). The mind behind anthropomorphic thinking: Attribution of mental states to other species. Animal Behaviour, 109, 167–176.
Vagnoli, L., Caprilli, S., Vernucci, C., Zagni, S., Mugnai, F., & Messeri, A. (2015). Can presence of a dog reduce pain and distress in children during venipuncture? Pain Management Nursing, 16(2), 89–95.
Weisberg, Z. (2017). Animal Assisted Intervention And Citizenship Theory. Pets and People: The Ethics of Our Relationships with Companion Animals. New York: Oxford University Press.
Wesenberg, S., Mueller, C., Nestmann, F., & Holthoff-Detto, V. (2018). Effects of an animal-assisted intervention on social behaviour, emotions, and behavioural and psychological symptoms in nursing home residents with dementia. Psychogeriatrics, 19(3), 1–9. https://doi.org/10.1111/psyg.12385
Westbury, H. R., & Neumann, D. L. (2008). Empathy-related responses to moving film stimuli depicting human and non-human animal targets in negative circumstances. Biological Psychology, 78(1), 66–74.
Wilson, E. O. (1984). Biophilia. Cambridge, MA: Harvard.
Yakimicki, M. L., Edwards, N. E., Richards, E., & Beck, A. M. (2019). Animal-assisted intervention and dementia: a systematic review. Clinical Nursing Research, 28, 9–29. https://doi.org/10.1177/1054773818756987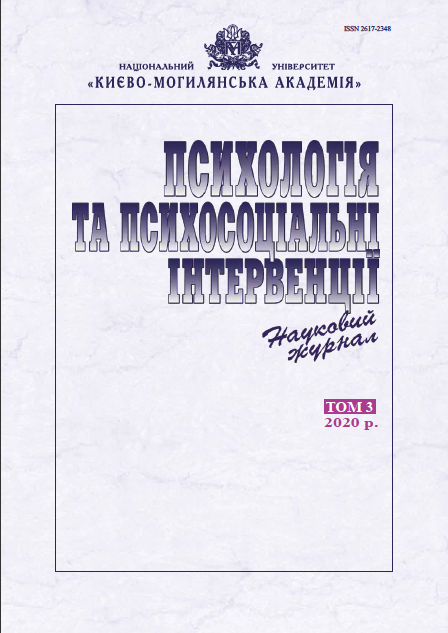 ##submission.downloads##
Як цитувати
Petinov, I. (2021). Теоретичний аналіз можливостей залучення тварин до соціально-психологічного супроводу людей похилого віку в умовах пансіонату. Психологія та психосоціальні інтервенції, 3, 42–49. https://doi.org/10.18523/2617-2348.2020.3.42-49
Ліцензія
Авторське право (c) 2021 Petinov Ian
Ця робота ліцензується відповідно до Creative Commons Attribution 4.0 International License.
Автори, які публікуються у цьому журналі, погоджуються з такими умовами:
а) Автор (и) зберігає авторські права за ліцензією Creative Commons Attribution 4.0 International, що дозволяє іншим ділитися твором (копіювати та розповсюджувати матеріал у будь-якому носії або форматі) та адаптувати твір (трансформувати та використовувати матеріал для будь-якої мети, навіть комерційної) з підтвердженням атрибуції твору.
b) Журнал дозволяє автору (авторам) зберігати авторські права без обмежень і дозволяє автору (авторам) зберігати права на публікацію без обмежень.
c) Автори можуть укласти окремі, додаткові договірні умови щодо розповсюдження твору (наприклад, опублікувати його в інституційному сховищі або опублікувати в книзі), із підтвердженням його первинної публікації в цьому журналі. (Див. Політику самоархівування).
г) Політика журналу дозволяє розміщення авторами в мережі Інтернет (наприклад, у репозитаріях) тексту статті, як до подання його до редакції, так і під час його редакційного опрацювання, оскільки це сприяє виникненню продуктивної наукової дискусії та позитивно позначається на оперативності та динаміці цитування опублікованої роботи (див. The Effect of Open Access).